Blog Archives
In the year 1776, just a few short years after attempting to make the largest cup of tea in the history of the world in the Boston harbor, because Americans like big things or possibly other reasons, the American colonies declared independence from the United Kingdom. [The British were unimpressed, inspiring the idiom, "That's weak tea."] In doing so, they prepared one of the greatest documents in history, calling it the Declaration of Independence. The preamble of that declaration is one of the best and most beautiful pieces of prose ever written, saying:
We hold these truths to be self-evident, that all men are created equal, that they are endowed, by their Creator, with certain unalienable Rights, that among these are Life, Liberty, and the pursuit of Happiness.
I'm not sure that anyone had ever said that treasured phrase before. See, I love that they said that. They were willing to set out at the beginning of their argument the things that they didn't think needed proof or explanation. It's possible, though, that they missed some truths they held to be self evident even before that, like who the "men" that were created equal included.
Things got awkward from there, as the constitution they established for their United States of America allowed for slaves without any right to liberty or the pursuit of happiness – or even life, really. Those rights certainly weren't unalienable for them. Beyond that, in Article I, section ii, they say that for census purposes, all free people are to be counted fully, but all slaves are only worth 3/5 of a person. But all men are created equal. That's self-evident.
Maybe it's that they're created equal but can be made less equal? Maybe it's that "men" doesn't mean slave men?
Maybe the problem is the term "self evident."
Because all of our arguments begin with the truths we hold to be self-evident. They're so evident to us that they remain unsaid but at their core aren't evident at all to the people we're arguing with.
I'm going to jump in on #TakeAKnee, here. Congratulations if you already got there before me. You're very smart. Now bear with me, because afterwards we're going to jump off somewhere different.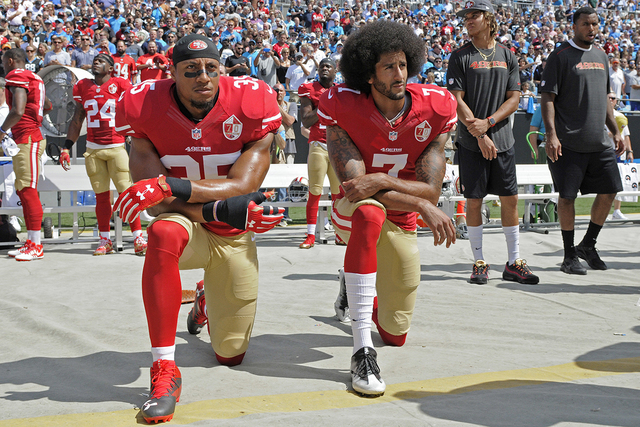 People in the United States are currently very angry with each other. You may have noticed. I'm Canadian, so I'm not angry with anybody, although I'm sorry for that. They're angry because one professional football player decided that during the playing of the national anthem he would go down on one knee rather than stand. He chose to do this because he believed that it would bring attention to the fact that people who looked like him were generally not, in fact, considered by people who look like me to have been created equal with unalienable rights to life, liberty, and the pursuit of happiness. People who look like me would generally deny that, of course, but based on what was going on in the news at the time, he held that truth to be self evident. Self evident is the fact that this garnered more national attention and conversation than just about any other peaceful way he could have brought this topic up.
It sparked so much debate that the President of the United States called him a son of a bitch, along with the many, many others who have followed up this football player's lead, taking up the practice of kneeling during the national anthem until all the supposedly equal people who don't look like me have the unalienable rights that I people who look like me have. It sparked so much debate that people have called for his job and his life. People are very, very angry.
So they argue. For the most part, the angry people aren't even arguing about what the players are protesting, though – they're arguing about the form that protest takes.They do it mostly in comments and tweets. And they aren't hearing each other. They can't understand… they can't fathom why people on the other side of the debate can hold such stupid, ill-informed opinions and beliefs.
Maybe it's because there's no room for preamble in a tweet and no one reads a comment long enough to have one, and the truths that they hold self evident stand only in the background.
Leaving behind the reasons for the protest, we focus on whether or not it's okay for someone to kneel during the nation anthem. After all, men have fought and died for that anthem and the flag it describes, and to disrespect that anthem is to disrespect them. And it disrespects the country. And the principles the country was founded on. And we hold those principles dearly. They are sacred. The flag is sacred. The anthem is sacrosanct. This is not an acceptable form of protest. That is self evident.
Leaving behind the reasons for the protest, we focus on whether or not it's okay for someone to kneel during the nation anthem. After all, men have fought and died for centuries for the right to self expression and peaceful protest against government-sanctioned tyranny; for the rights to life, liberty and the pursuit of happiness for all equal men. The greatest way to honor their sacrifice is to exercise the rights they fought and died for in an attempt to make better the country that the flag and anthem represent. Kneeling during the anthem is a profoundly patriotic form of protest. That is self evident.
And so these two mutually exclusive, self evident truths put pots on their heads and run at each other like rutting sheep until there's nothing left but pain and a lot of loud, clanging noise. And that is a microcosm of how we treat each other all the time in every debate we engage in, and it's why we just get angrier instead of understanding each other.
I'm not an expert in football. I'm not really an expert in America or American politics, although I have watched The West Wing through three times and have a Facebook account. What I am a theoretical expert in is communication and Christian religious expression. And that's why it's taken me a thousand words to come to what I really want to say.
Every embittered, vitriolic argument that we get into is because we hold truths to be self evident. And they aren't. Virtually no truth is self evident. I mean, it's evident to ourselves, but we can't assume that it's evident to everyone else's selves. And that is incredibly difficult to get our heads around. We resist that discovery. We can't understand how anything so MIND-BLOWINGLY OBVIOUS can't be understood by THESE IDIOTS who are clearly OBSTINATE AND WILLFULLY IGNORANT. And neither can they. About us.
When the Apostle Paul writes in Romans 1:20 that, "since the creation of the world God's invisible qualities—his eternal power and divine nature—have been clearly seen, being understood from what has been made, so that people are without excuse," what he's saying is that the truth of God is self-evident. His qualities. His desires. His very existence. And we, who are Christians, tend to agree. Whether from our observations of the natural world, our studies of scripture, our indoctrination, or our experiences with the supernatural world, we enter into every conversation and debate with that underlying principle: God Is. And not only Is he, but his word and will known. And not only are his word and will know, but they are paramount.
Atheists enter the discussion knowing that the natural, observable world is all there is. There is no Invisible Sky-Man having a floating tea-party with a flying spaghetti monster. Religion is simply an attempt by the elite to control the masses or a crutch for the intellectually and emotionally needy. That is self evident.
And  that's fine when the argument is about God's existence, because those core issues are in play. We're debating those things that we each hold to be self evident, and even if we can't understand why the other side doesn't, we understand that the bearing they have on the discussion.
The problem comes during the myriad of other cultural land-mines we discuss.
Abortion.
Same sex marriage.
Trans-gender issues.
In every discussion one side enters in holding certain truths to be self evident. God is. His will is apparent. His will is paramount. [In the case of abortion, that a fetus or zygote or whatever is a fully human person, created equal and endowed, by their Creator, with certain unalienable Rights, that among these are Life, Liberty, and the pursuit of Happiness.]
The other side side enters in holding the self evident truths that personal equality, life, liberty, and the pursuit of happiness are unalienable rights, personal decision is sacrosanct, and no one can take them away on the millennia old, made up word of some invisible sky-man.
Even within the Christian community, we carry beliefs about the nature of God that inform every position we hold, every nuanced interpretation of scripture, every way we live out our faith in the world. And we hold them to be self evident. Calvinists hold the truth to be self evident that God's sovereignty extends to willing all that happens. Arminians hold the truth to be self evident that God's love necessitates free will for his creation.
We all agree that God is Love, but somewhere underneath it is a self evident truth about what that means that others don't find to be evident at all.
We all agree that love is good, but somewhere underneath it is a self evident truth about what that means that others don't find to be evident at all.
We assume that our interpretation of scripture is correct.
We assume that other people should care about what we understand scripture teaches.
We assume that if we are just forceful enough, other people will accede to our self evident truths and thereby arrive at the same position we hold that flows from them.
But we keep arguing the position that flows from them and will never arrive at agreement unless we can agree on the foundational principles that under-gird them.
We need to take a deep breath and accept that the truths we hold dear are not self evident. They require knowledge and experience to arrive at. And maybe, just maybe, we haven't had the knowledge and experience to arrive at the truths that someone else holds to be self evident.
Does this mean we quit talking? Of course not. But it means we have to have a measure of grace for each other. We have to understand that people who disagree with us are not intrinsically stupid or mean-spirited or whatever. They are using a different foundation to build on. Unless we understand their foundation, their building won't make sense. And we ridicule things that don't make sense. And that doesn't make anything better.
So we talk. We share our stories. We share our beliefs. We listen as other people do the same. We stop making statements as if they are self evident. And we do all this with the basic assumption that their argument makes as much sense as ours does. We find out how they got there and discuss that. In order to be understood, we must first seek to understand. That's useful communication. That's loving communication. That's Godly communication. Otherwise all anyone hears is a clanging gong or a noisy cymbal. That's why the soundtrack of our world is a vast multitude of pots banging against each other and wounded people falling to the ground.
I hold that truth to be self evident.
The Art of Being Broken has now been available to the public for two weeks! (get your copy here). It was a ton of work getting to the point of releasing it, with a variety of promotional avenues used. I spent a lot of time on other people's blogs—authors, publishers, editors, etc.—reading tips and tricks and advice. A lot of it was helpful. I thought I'd share my experiences following that advice so that my journey can be helpful to someone else. The following is the good, the bad, and the ugly from five marketing streams I used.
1. Facebook
The Art of Being Broken's Facebook page went up several months before launch. On it, I shared a number of quote pics, progress updates, early reviews, and general thoughts about the book. I had almost 140 "Likes" on the page leading up to launch, about half of them personal contacts and half people I don't know. I also distributed early e-copies to interested pastors in a group I belong to, and got some good feedback.
The Good: I had some enthusiastic supporters that shared a lot of things (as well as the page itself). The reach on the quote pics ranged between 250 and 900 people depending on how it was shared. Adding popular hashtags helped a bit.
The Bad: After initial enthusiasm wore off, there wasn't as much interaction on the page. Despite the number of likes and shares, not a lot of people engaged in the comments.
The Ugly: When I tried "boosted posts" from Facebook, I'd invariably get shut down for having too much text in the image. Facebook's policies made using it for advertising very difficult.
2. Thunderclap
Thunderclap is a platform that links with people's social media accounts to release a timed message. In this case, it was a launch announcement for the book. I'd heard good and bad things about Thunderclap, the bulk of the bad being that it could be really hard to meet their release goals (you need at least 100 people to sign up to use the free service, otherwise they want money). I managed to run a successful campaign, but it was very difficult. Most of it came down to personal requests… leaving public posts on Facebook or requests on TAOBB page got very little action. In order to get 100 supporters, I used my author mailing list from Noisetrade (400 people, more on Noisetrade later), my personal email list (600 people), and my personal facebook friend list (250 people), sending direct messages to everyone. Then I did it again with anyone who I thought a "likely supporter". Then, as time counted down, I begged my most faithful supporters to beg their friends. With 30 days of daily effort, I got 103 supporters. (Link to campaign)
The Good: The Thunderclap came together with a theoretical social reach of over 182,000 people. That means that if everyone who Twitter follows or Facebook friends my supporters sees the message that means that the announcement goes in front of A LOT of people. The push for the Thunderclap announcement also gave me something to do for the month leading up to launch that felt useful and momentum building.
The Bad: No one knows what Thunderclap is. It was hard work to convince people it was safe and get them to follow the instructions to sign up. Also, the reach is theoretical. I don't know how many people actually saw it, but of my 250ish Facebook friends, I only actively follow about 25. I assume that most other people are the same. To add on to that, a number of people who signed up for it had the Thunderclap fizzle… it was a dud… it never went off. They checked their pages, and the announcement just never appeared. It seems to be an issue with Thunderclap.
The Ugly: Despite it's theoretical reach of over 182,000, the campaign generated somewhere in the neighbourhood of 20 click-throughs to the sale page, 4 clicks-through to Amazon, and no sales. It was much ado about nothing.
3. Goodreads
I set up The Art of Being Broken with a page on Goodreads—a large social site for people to discover and review books. For pre-launch marketing purposes, I signed up for a Christian Authors review exchange (no quid-pro-quo, but a group of people exchanging books to review without directly reviewing someone reviewing your own. That's a long way of saying there was no conflict of interest), and a "Goodreads giveaway," wherein an author offers a number of pre-release print copies in the hopes that the winners will review the book an tell their friends. I listed 6 books, and Goodreads put up the giveaway. There were somewhere in the neighbourhood of 700 entries.
The Good: The review group generated some very positive reviews, although conflicting theology tempered one of them.
The Bad: None of the giveaway books produced reviews, despite Goodreads estimate that over 60% of the time they do. I spent about $60 printing and mailing the books.
The Ugly: On the day the book was launched, one of the books from the giveaway showed up on Amazon, undercutting my price. This was the first print copy "sold." Since then, ALL of the giveaway copies I sent out have appeared in Amazon stores listed in "new" condition. It appears that it's a cottage industry to enter ALL the giveaways, even ones you're not remotely interested in, in the hopes of taking advantage of the authors/publishers and making some free money. I can't stress enough how broken the Goodreads giveaway system is and would encourage authors to avoid it completely.
4. Radio/Podcast
I've got a friend who runs a Christian radio station. He hooked me up with an interview and a list of names to contact at other stations, which produced another. I also did an interview for a podcast with a pastor I met online. I had a good time for all of them, and learned a bit about how to present myself and the book.
The Good: It was great "multimedia" to post, and I felt like it gave some legitimacy to the book for people that might have otherwise written it off as a flight of fancy. It obviously must have reached a fair number of people, as well.
The Bad: I had trouble coordinating the air times of the interviews, and two of them aired before launch. We thought it might help build momentum, but I think that it just meant that any impulse buys that could have come out of it were stymied.
The Ugly: Man, I can be longwinded. I needed better, more concise answers to punch up the interviews. Beyond that, I haven't heard anything from anyone about them.
5. Noisetrade
Noisetrade is another avenue that many people haven't heard of. It started as a music-for-tips service, where people could download for the cost of their email address, with an optional "tip" of either a social media share or paypal donation to the artist. It's since developed an ebook side, with full or excerpted copies available. I had already had a PDF of Worshipping Through John available there for quite a while, and released the first 3 chapters of TAOBB for free there, in the hopes of generating some interest.
The Good: TAOBB was tapped as "New and Notable," and got a large number (200ish) of downloads through that. Between that and WTJ, I wound up with a mailing list of about 400 people to bug about the Thunderclap and the book launch. I received one enthusiastic email back from a reader, which was cool.
The Bad: The mailing list got an "open rate" of about 40%, which means that most people didn't even open the emails I sent them. Beyond that, the click-through rate was pretty low. I'm not convinced that I actually saw any sales through this, although there might have been one.
The Ugly: Being featured as "New and Notable" isn't free. Although it's only available to works of a certain quality, by invitation, it still cost me $80. Overall, it was probably worth a try, but when you're out of work and strapped for cash, $80 can be a sizable investment.
Reaching out to "influencers," (bigger names who's opinions would carry weight with my target demo) was a bust. Most were simply non-responsive, and the ones that accepted a copy for endorsement became unavailable after a few weeks of back and forth.
The upshot of all this, is that despite fantastic early reviews and enthusiastic responses from just about everyone who's read it, my first two week's online sales, in both print and ebook, amount to about 4 copies. As of yet, the only "real" success has come from personal marketing—friends, family, and church members who either attended the launch party or have since picked up physical copies from tables at a couple of churches. A part of me is afraid that, despite rave reviews, this will be one of the "typical," "average," self-published books that sells between 100 and 200 copies in its lifespan. I think I can be okay with that… my prayer in this all is that God will use the book as he wants. And as much as I want him to want me to be a best-selling author, what he wants to do with it is more important.
One cool thing to come out of this process is being tapped to do copy-editing and formatting for a self-published memoir from a friend's father, detailing his service in the Pacific fleet of the US Navy in WW2 and how he dealt with post-war life. It's really good, and I had fun with the project. It's coming out in a couple of weeks, and if you're at all interested in the period or genre, it's worth checking out. Maybe I'll find that what I've learned through this all will let me help some other people get their vision to print. That could be cool.
Also, buy my book.
I love being outraged. It's one of the best feelings in the world. I know that I'm right in feeling that way, because the entire internet agrees with me. If you haven't tried it, you should. Trust me. Being outraged is all the rage. Anyone can do it. All you have to do is find something in your Facebook feed that one of your friends is offended over and jump on the endorphin train. You don't even have to read past the headline, just head straight to the comments, fire up the ALL-CAPS and go to town, because—
1. Being Outraged Gives a Wonderful Sense of Community
You're about to join a team! Everyone loves being on a team, especially if it looks like it's going to be the winning team. It can even be fun being on a losing team if you get to feel like a misunderstood martyr, though, so you don't have to be picky. Go with your gut—that way, you know that the other people on your team are like you and you aren't alone. There's an epidemic of aloneness in the world, and social media outrage is one of the best ways to fight that. You have something in common. You're doing things with people, and that's like having friends! Not only that, but, win or lose, you and your friends are the best people, because—
2. Being Outraged Proves Your Moral Superiority
You're better than two whole kinds of people! Not only are you better than the idiots that support the thing you're outraged about, you're WAY better than the apathetic wretches who let such an outrageous thing slide! If you're outraged, clearly you have a much more finely tuned sense of right and wrong than they do, and you are amazingly passionate about it. Your all-encompassing outrage means that can feel confident in your superior morality—any insignificant things that might be wrong in your life pale in comparison to this injustice anyway. If you've been wondering if you're a good person, comfortable with your first world problems in your comfortable chair, outrage is your new best friend! Even if nothing else comes of your cause of the week—
3. Being Outraged Lets You Feel Like You're Doing Something
You've done your part by raising awareness of the issue! Really, the biggest problems in the world come because no one knows about them. Sure, you're not going to be the one to leave the house and physically do something, and you're probably not going to spend your coffee money fighting it, but if you Like and Share and type enough, someone else probably will, and that's basically the same thing as doing it yourself. I mean, if someone else does something because you told them about it, you should really get the credit. Who has time to leave the keyboard when there are so many WRONG people that need to be corrected anyway. They don't know what they're talking about. You do. And you're going to make sure they know it, because—
4. Being Outraged Frees You From Challenging Your Preconceptions
You are the proud owner of THE TRUTH! Attacks on THE TRUTH must be crushed with extreme prejudice, and you and your team are going to do it. You don't have to care what stupid people think; what's important is that they know they're wrong. If you're yelling loud enough, they'll change their mind. What they have to say isn't important anyway. You're far too mad to listen to that drivel. If you start to feel yourself waver, remember that if they were good people, if they were smart people, they'd be on your team. Your team says so. The last thing you want is for your brain to be infected with their inane stupidity. You're OUTRAGED! And you wouldn't waste your time being outraged about something that you weren't certain about. If they're starting to make sense, go on the attack because—
5. Being Outraged Cuts Off Any Possibility of Real Interaction
You don't want to deal with ignorant people anyway! Balanced opinions and perspectives are a waste of time. No one listens to those. Going straight to full-on outrage saves you from having to work through the pesky issue for yourself. What's really important is knowing your talking points. Once you have those, you just have to repeat them over and over again until everyone else capitulates. If there's no one there to capitulate, even better! You and your team can run through your talking points for practice in case there ever is. Listening to other people say the same things that you already believe is spectacularly comforting. Look how smart and wise and learned you are! If they the other side can't see that, they've just proven your point.
So, as you can see, I've conclusively proven beyond any shadow of a doubt that netrage is the best thing ever, and you're an inbred piece of filth if you don't think so too! What's your favorite thing about being outraged on the internet?
*The above post is satire, for crying out loud. I also tagged it as satire in the satire category. I will be outraged if you don't get that.