Category Archives:
People
The people in my life that are being Broken.
In the year 1776, just a few short years after attempting to make the largest cup of tea in the history of the world in the Boston harbor, because Americans like big things or possibly other reasons, the American colonies declared independence from the United Kingdom. [The British were unimpressed, inspiring the idiom, "That's weak tea."] In doing so, they prepared one of the greatest documents in history, calling it the Declaration of Independence. The preamble of that declaration is one of the best and most beautiful pieces of prose ever written, saying:
We hold these truths to be self-evident, that all men are created equal, that they are endowed, by their Creator, with certain unalienable Rights, that among these are Life, Liberty, and the pursuit of Happiness.
I'm not sure that anyone had ever said that treasured phrase before. See, I love that they said that. They were willing to set out at the beginning of their argument the things that they didn't think needed proof or explanation. It's possible, though, that they missed some truths they held to be self evident even before that, like who the "men" that were created equal included.
Things got awkward from there, as the constitution they established for their United States of America allowed for slaves without any right to liberty or the pursuit of happiness – or even life, really. Those rights certainly weren't unalienable for them. Beyond that, in Article I, section ii, they say that for census purposes, all free people are to be counted fully, but all slaves are only worth 3/5 of a person. But all men are created equal. That's self-evident.
Maybe it's that they're created equal but can be made less equal? Maybe it's that "men" doesn't mean slave men?
Maybe the problem is the term "self evident."
Because all of our arguments begin with the truths we hold to be self-evident. They're so evident to us that they remain unsaid but at their core aren't evident at all to the people we're arguing with.
I'm going to jump in on #TakeAKnee, here. Congratulations if you already got there before me. You're very smart. Now bear with me, because afterwards we're going to jump off somewhere different.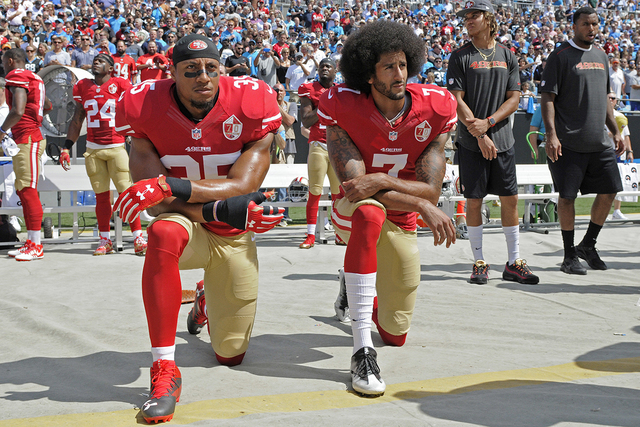 People in the United States are currently very angry with each other. You may have noticed. I'm Canadian, so I'm not angry with anybody, although I'm sorry for that. They're angry because one professional football player decided that during the playing of the national anthem he would go down on one knee rather than stand. He chose to do this because he believed that it would bring attention to the fact that people who looked like him were generally not, in fact, considered by people who look like me to have been created equal with unalienable rights to life, liberty, and the pursuit of happiness. People who look like me would generally deny that, of course, but based on what was going on in the news at the time, he held that truth to be self evident. Self evident is the fact that this garnered more national attention and conversation than just about any other peaceful way he could have brought this topic up.
It sparked so much debate that the President of the United States called him a son of a bitch, along with the many, many others who have followed up this football player's lead, taking up the practice of kneeling during the national anthem until all the supposedly equal people who don't look like me have the unalienable rights that I people who look like me have. It sparked so much debate that people have called for his job and his life. People are very, very angry.
So they argue. For the most part, the angry people aren't even arguing about what the players are protesting, though – they're arguing about the form that protest takes.They do it mostly in comments and tweets. And they aren't hearing each other. They can't understand… they can't fathom why people on the other side of the debate can hold such stupid, ill-informed opinions and beliefs.
Maybe it's because there's no room for preamble in a tweet and no one reads a comment long enough to have one, and the truths that they hold self evident stand only in the background.
Leaving behind the reasons for the protest, we focus on whether or not it's okay for someone to kneel during the nation anthem. After all, men have fought and died for that anthem and the flag it describes, and to disrespect that anthem is to disrespect them. And it disrespects the country. And the principles the country was founded on. And we hold those principles dearly. They are sacred. The flag is sacred. The anthem is sacrosanct. This is not an acceptable form of protest. That is self evident.
Leaving behind the reasons for the protest, we focus on whether or not it's okay for someone to kneel during the nation anthem. After all, men have fought and died for centuries for the right to self expression and peaceful protest against government-sanctioned tyranny; for the rights to life, liberty and the pursuit of happiness for all equal men. The greatest way to honor their sacrifice is to exercise the rights they fought and died for in an attempt to make better the country that the flag and anthem represent. Kneeling during the anthem is a profoundly patriotic form of protest. That is self evident.
And so these two mutually exclusive, self evident truths put pots on their heads and run at each other like rutting sheep until there's nothing left but pain and a lot of loud, clanging noise. And that is a microcosm of how we treat each other all the time in every debate we engage in, and it's why we just get angrier instead of understanding each other.
I'm not an expert in football. I'm not really an expert in America or American politics, although I have watched The West Wing through three times and have a Facebook account. What I am a theoretical expert in is communication and Christian religious expression. And that's why it's taken me a thousand words to come to what I really want to say.
Every embittered, vitriolic argument that we get into is because we hold truths to be self evident. And they aren't. Virtually no truth is self evident. I mean, it's evident to ourselves, but we can't assume that it's evident to everyone else's selves. And that is incredibly difficult to get our heads around. We resist that discovery. We can't understand how anything so MIND-BLOWINGLY OBVIOUS can't be understood by THESE IDIOTS who are clearly OBSTINATE AND WILLFULLY IGNORANT. And neither can they. About us.
When the Apostle Paul writes in Romans 1:20 that, "since the creation of the world God's invisible qualities—his eternal power and divine nature—have been clearly seen, being understood from what has been made, so that people are without excuse," what he's saying is that the truth of God is self-evident. His qualities. His desires. His very existence. And we, who are Christians, tend to agree. Whether from our observations of the natural world, our studies of scripture, our indoctrination, or our experiences with the supernatural world, we enter into every conversation and debate with that underlying principle: God Is. And not only Is he, but his word and will known. And not only are his word and will know, but they are paramount.
Atheists enter the discussion knowing that the natural, observable world is all there is. There is no Invisible Sky-Man having a floating tea-party with a flying spaghetti monster. Religion is simply an attempt by the elite to control the masses or a crutch for the intellectually and emotionally needy. That is self evident.
And  that's fine when the argument is about God's existence, because those core issues are in play. We're debating those things that we each hold to be self evident, and even if we can't understand why the other side doesn't, we understand that the bearing they have on the discussion.
The problem comes during the myriad of other cultural land-mines we discuss.
Abortion.
Same sex marriage.
Trans-gender issues.
In every discussion one side enters in holding certain truths to be self evident. God is. His will is apparent. His will is paramount. [In the case of abortion, that a fetus or zygote or whatever is a fully human person, created equal and endowed, by their Creator, with certain unalienable Rights, that among these are Life, Liberty, and the pursuit of Happiness.]
The other side side enters in holding the self evident truths that personal equality, life, liberty, and the pursuit of happiness are unalienable rights, personal decision is sacrosanct, and no one can take them away on the millennia old, made up word of some invisible sky-man.
Even within the Christian community, we carry beliefs about the nature of God that inform every position we hold, every nuanced interpretation of scripture, every way we live out our faith in the world. And we hold them to be self evident. Calvinists hold the truth to be self evident that God's sovereignty extends to willing all that happens. Arminians hold the truth to be self evident that God's love necessitates free will for his creation.
We all agree that God is Love, but somewhere underneath it is a self evident truth about what that means that others don't find to be evident at all.
We all agree that love is good, but somewhere underneath it is a self evident truth about what that means that others don't find to be evident at all.
We assume that our interpretation of scripture is correct.
We assume that other people should care about what we understand scripture teaches.
We assume that if we are just forceful enough, other people will accede to our self evident truths and thereby arrive at the same position we hold that flows from them.
But we keep arguing the position that flows from them and will never arrive at agreement unless we can agree on the foundational principles that under-gird them.
We need to take a deep breath and accept that the truths we hold dear are not self evident. They require knowledge and experience to arrive at. And maybe, just maybe, we haven't had the knowledge and experience to arrive at the truths that someone else holds to be self evident.
Does this mean we quit talking? Of course not. But it means we have to have a measure of grace for each other. We have to understand that people who disagree with us are not intrinsically stupid or mean-spirited or whatever. They are using a different foundation to build on. Unless we understand their foundation, their building won't make sense. And we ridicule things that don't make sense. And that doesn't make anything better.
So we talk. We share our stories. We share our beliefs. We listen as other people do the same. We stop making statements as if they are self evident. And we do all this with the basic assumption that their argument makes as much sense as ours does. We find out how they got there and discuss that. In order to be understood, we must first seek to understand. That's useful communication. That's loving communication. That's Godly communication. Otherwise all anyone hears is a clanging gong or a noisy cymbal. That's why the soundtrack of our world is a vast multitude of pots banging against each other and wounded people falling to the ground.
I hold that truth to be self evident.
In recent breaking news, Starbucks has given in! Christians have won! Christ is back in Coffee Christmas! The infamous coffee chain has acknowledged their nefarious plot, bowing to the righteous indignation of Red Hat Guy and his friend Donald. CEO Joe Starbuck was quoted as saying:
Yeah, they caught us. You can't hide anything from the internet. The recent influx of angry patrons named Merry Christmas has forced us to give up on the Red Solo plan and come forward with an offering filled with real Christmas spirit.
Despite a 23% spike in sales due to outraged Dunkin' Donuts regulars switching to Starbucks to stick it to the man in the name of Jesus, the coffee giant has hired famed guerilla artist Akiro Arukiddingme to bring together an amalgamation of the designs that captured Christmas past for coffee loving evangelicals. In his first media appearance in years, he told reporters:
I believe that Starbucks needed to make a true, meaningful apology in this cup. White on red graphics have come to mean so much to so many people at this time of year, so I have reached into their hearts to give them the vision they have craved. I may be punished for saying so, but Starbucks was ill-advised in using so much red. Red is the colour of anger. White has brought peace, so I combined the white designs of past years. I overlaid them on this year's red cup to bring a vision of the peace of Christ, because what is in the hearts of Evangelical Christians passes all understanding.
Hailed as the most Christmassy cup ever, Arukiddingme's design incorporates every Christmas image used before, and should satisfy even the most demanding Evangelical:
In other news, come on, people.
I've been frustrated at people on the Internet lately. I know, that's shocking and new, but try to contain your surprise and stay with me. Some of them are friends. Some of them are colleagues. Some of them are random strangers that I theoretically share a belief system with. This post may will probably offend them. They may even call it persecution from within. That would certainly fit with the rhetoric that I see floating around.
There was a great post on cracked.com (home of tremendously well-written and researched articles that people are tricked into reading by dick jokes and cussing) recently about 5 Ways Powerful People Trick You Into Hating Protesters (or Underdogs if you visited before the title was changed). There's some really interesting stuff about how the majority is made to feel like a threatened  and oppressed minority. It really resonated with me because that's the way a lot of North American Christians are feeling. The rhetoric floating around the Christian Right is calling it persecution.
I have trouble with that, because (to me) it belittles a lot of things. Sure if you really want it to, it may be massaged to fit a dictionary definition of persecution in that treatment of Christians in North America can at some points be annoying or cause someone to suffer, but I believe that's because North American Christians have a VERY low threshold for suffering. That's what happens when we've lived in coddled privilege for generations, holding the stick for so long we've come to feel that it's part of our hands. Persecution, like suffering, is a loaded word. When I think about persecution, I think about people losing jobs or being beaten or being sent to prison or killed because of what they believe or who they are. Historically in North America, that's been how many "Christians," or at least our "Christian society," has treated people like blacks, gays, and women.
That's a hard thing to hear, because no one likes to think of themselves as persecutors. That was what used to happen. It's not us. At least, it can't be us because we're not that bad anymore, right?In the face of damning evidence, one of the easiest ways to make ourselves feel better is to simply call ourselves the persecuted. After all, Christians are being persecuted around the world, so how are we any different? It must be true, because we see it in the news. We're "persecuted" when:
1. People Vote With Their Wallets
There are Christian businesses that are losing money because people choose not to frequent those establishments. Those people don't want to give their commerce to people who they perceive as being bigoted and intolerant. Forget for a second that this happens infrequently enough on a major scale that it's major news when it happens, it's REVERSE BIGOTRY!
2. People Are Jerks on the Internet
Nothing makes a person happier than being superior on the Internet. There are whole websites devoted to the "triumph of reason" and articles shared around about how profoundly dumb it is to believe in God like a bunch of sheeple. Blah blah blah flying teapot spaghetti monster. How dare they poke at our insecurity to make themselves feel better! Of course, it's not actually directed at YOU, but it's adjacent to you and that sucks. It's not like you'd ever make blanket statements about a whole group of people.
3. We Lose Privileges
Did you know that churches may lose their tax-exempt charitable status if they preach against homosexuality or refuse to perform gay marriages!?! It's all over the Internet. How is that possibly fair? We're entitled to special treatment! We must be—we've had it forever. So what if by doing weddings we're acting as agents of the state? They have no business changing their policy to something we disagree with. And taking away preferential treatment to reduce us to the same status as any other group? Preferential treatment is our right! What a hateful mess.
4. We Get Made Fun Of
It's often said in youth group circles that the worst that can happen if you share your faith with someone is that they'll laugh at you. Really, though, that's bad enough, isn't it? Who wants to be mocked or made fun of for their beliefs? Christians never do that.
5. Ezra Levant Rants About Something
The "rebel commander" and his offense du jour give wonderful self-pity breaks for Canadian Christians. I'm sure the US has their own equivalent (Fox News?). There's nothing like taking isolated incidents and painting a broad brush conspiracy to marginalize or attack all Christians, to make us feel appropriately threatened and justified in defending ourselves. We should be grateful to people like him for pointing out how persecuted we are, when we otherwise might not have noticed.
6. We Are Held Accountable For What The Bible Says
The Bible says things that people disagree with. That is because they are sweaty heathen sinners who don't know better. Sometimes that means that our beliefs require that say things or we have to live in ways that they find offensive. Since our beliefs are the right ones and their beliefs are wrong, if their beliefs require them to say or do things that make us uncomfortable or feel "attacked," that shouldn't be allowed. We're the only ones who can do that.
Yes, there was a sneer on my face as I wrote those things. And yes, I actually feel bad about that. I struggle with posting this, because I feel like anyone who agrees with me already knows, and anyone who doesn't agree with me isn't going to be swayed by it. Sometimes the Internet is great for venting though, so at least there's that.
If you're still reading this far and haven't shut the tab or jumped to the comments, the takeaway I want to leave is this: There is a difference between Christians being persecuted and A Christian being persecuted and YOU being persecuted. Beyond that, I want to say there's a difference between things being mildly inconvenient and uncomfortable for you in a distant way and being persecuted. However you want to work your own definition, I can tell you that it's wrong.
The reason that I know that is this: The persecuted Church grows. Always. It can't be stopped, and when we are "persecuted for righteousness sake," it witnesses to the world in a way that draws them to Christ. If we're persecuted for being jerks, that's not the same thing.
I've seen a lot of posts coming through my feed about the "different women" that Christian men should avoid marrying for whatever reason. I want to add my own. It's really just one, that I feel above all others, Christian men—any men—should avoid marrying.
1. "Valorous Vanessa"
This woman is funny and articulate. She is wise and loving and cares deeply for her children. She is a woman of deep faith, encouraging, and supportive. That may be sounding good. You may be thinking, "That's describing the woman I want to marry." She has one glaring problem, though… She's my wife. You should not marry her. I already did. You can't have her. I'm keeping her.
Happy mother's day, Ness.
I love being outraged. It's one of the best feelings in the world. I know that I'm right in feeling that way, because the entire internet agrees with me. If you haven't tried it, you should. Trust me. Being outraged is all the rage. Anyone can do it. All you have to do is find something in your Facebook feed that one of your friends is offended over and jump on the endorphin train. You don't even have to read past the headline, just head straight to the comments, fire up the ALL-CAPS and go to town, because—
1. Being Outraged Gives a Wonderful Sense of Community
You're about to join a team! Everyone loves being on a team, especially if it looks like it's going to be the winning team. It can even be fun being on a losing team if you get to feel like a misunderstood martyr, though, so you don't have to be picky. Go with your gut—that way, you know that the other people on your team are like you and you aren't alone. There's an epidemic of aloneness in the world, and social media outrage is one of the best ways to fight that. You have something in common. You're doing things with people, and that's like having friends! Not only that, but, win or lose, you and your friends are the best people, because—
2. Being Outraged Proves Your Moral Superiority
You're better than two whole kinds of people! Not only are you better than the idiots that support the thing you're outraged about, you're WAY better than the apathetic wretches who let such an outrageous thing slide! If you're outraged, clearly you have a much more finely tuned sense of right and wrong than they do, and you are amazingly passionate about it. Your all-encompassing outrage means that can feel confident in your superior morality—any insignificant things that might be wrong in your life pale in comparison to this injustice anyway. If you've been wondering if you're a good person, comfortable with your first world problems in your comfortable chair, outrage is your new best friend! Even if nothing else comes of your cause of the week—
3. Being Outraged Lets You Feel Like You're Doing Something
You've done your part by raising awareness of the issue! Really, the biggest problems in the world come because no one knows about them. Sure, you're not going to be the one to leave the house and physically do something, and you're probably not going to spend your coffee money fighting it, but if you Like and Share and type enough, someone else probably will, and that's basically the same thing as doing it yourself. I mean, if someone else does something because you told them about it, you should really get the credit. Who has time to leave the keyboard when there are so many WRONG people that need to be corrected anyway. They don't know what they're talking about. You do. And you're going to make sure they know it, because—
4. Being Outraged Frees You From Challenging Your Preconceptions
You are the proud owner of THE TRUTH! Attacks on THE TRUTH must be crushed with extreme prejudice, and you and your team are going to do it. You don't have to care what stupid people think; what's important is that they know they're wrong. If you're yelling loud enough, they'll change their mind. What they have to say isn't important anyway. You're far too mad to listen to that drivel. If you start to feel yourself waver, remember that if they were good people, if they were smart people, they'd be on your team. Your team says so. The last thing you want is for your brain to be infected with their inane stupidity. You're OUTRAGED! And you wouldn't waste your time being outraged about something that you weren't certain about. If they're starting to make sense, go on the attack because—
5. Being Outraged Cuts Off Any Possibility of Real Interaction
You don't want to deal with ignorant people anyway! Balanced opinions and perspectives are a waste of time. No one listens to those. Going straight to full-on outrage saves you from having to work through the pesky issue for yourself. What's really important is knowing your talking points. Once you have those, you just have to repeat them over and over again until everyone else capitulates. If there's no one there to capitulate, even better! You and your team can run through your talking points for practice in case there ever is. Listening to other people say the same things that you already believe is spectacularly comforting. Look how smart and wise and learned you are! If they the other side can't see that, they've just proven your point.
So, as you can see, I've conclusively proven beyond any shadow of a doubt that netrage is the best thing ever, and you're an inbred piece of filth if you don't think so too! What's your favorite thing about being outraged on the internet?
*The above post is satire, for crying out loud. I also tagged it as satire in the satire category. I will be outraged if you don't get that.
In the past few years, I've had the opportunity to watch a debate that was happening in schools and bars and social media move into governments and courts. Right now, the Supreme Court of the United States is hearing arguments about whether or not individual states should have a right to legislate whether they will allow same-sex couples to get married, or whether it should be a federally protected right. You may have heard about it. Some people have opinions. Many of them are loud.
The popular perception is that Christians want to keep the world firmly ensconced in an idealized version of the 1950s by keeping all the marriage for themselves, while people with functioning brains want to be nice to people. The other (somewhat less popular) popular perception is that Christians want to save the world from a toboggan ride to hell, while sweaty heathens want to steal marriage so that they can have sex with everything and not pay taxes. The unpopular perception is that even within the Christian community, there's a pretty sharp split between those in support and those against, and they might be even angrier with each other than the rest of the internet is.
My name is Aaron, and I'm a Christian moderate. That's not an easy thing to be, especially when debates get heated. There's a lot of hurt flying around on all sides, particularly from people who seem to think there's only two of them. Once again, as a Christian moderate, I'm catching my fair share because—
1. Some people believe there's no such thing
In Revelation 3:16, God  says that, "because you are lukewarm—neither hot nor cold—I am about to spit you out of my mouth,"  and a lot of people seem to think that means that if your theology doesn't go to the logical extreme, you don't care about God. They see moderate Christians as being wishy-washy or apathetic. They think that if you aren't at one end of the spectrum or another, you just haven't bothered to think through your faith. Most of the time, though, this couldn't be farther from the truth. Most Christian moderates and moderate denominations place a very high priority on scripture and applying it passionately to life. The difference is that they see that application in the middle of the two extremes. I am a passionately hot and cold middle-ground believer, because that's where I see the Bible leading. I have very strong opinions on it, and right now it leads to arguments because—
2. Liberals think that that you hate gay people
I can't do the exegetical (critical interpretation of religious text) and hermeneutical (art and science that shapes biblical interpretation) back-flips that let them say that God is giving a thumbs-up to same-gender sexual relationships. I've dug in and tried, because I want to and it would be much easier for me to hold that position in so many ways, but I can't. That conviction means that when I'm asked, I have to say that I believe that homosexual practice is sinful. I can't endorse it because I don't believe that the creator of sexuality endorses it. As a pastor, I can't conduct a wedding of a same-sex couple. I also don't believe that people should be forced to participate in the event under threat of losing their business, either, through everything from flowers to food to photography. If they believe that their participation amounts to support and/or endorsement of something they believe is wrong, they should have the right not to. This position has led to a lot of people on the internet being very angry with me. Despite that—
3. Conservatives think that you throw out the Bible
I believe that same-sex couples should receive equal treatment under secular law, and when I say that, conservative Christians seem to think I'm possessed by the devil. They see it as a betrayal as scripture and a governmental endorsement of sin. The problem is that they can't separate the moral/religious implications from the legal/secular ones. They also can't seem to see the way the argument demeans and belittles real people with real feelings who don't share their beliefs. I'll talk to Christians about God's intent for human sexuality, but applying that to people who don't believe in God is ridiculous. I can't make a religious argument in a legal debate, and I don't believe that the state has any compelling interest in discriminating against homosexuals. I'm honestly not sure that Christians have any place entering into the conversation and saying so. When I make that argument—
4. You realize that half the problem is that everyone is speaking different languages with the same words
Everyone looks at me like I have two heads. I feel like whenever I'm talking to someone about it, I'm arguing someone else's position. I think that it would be a lot easier to come together on this if we could just replace the word marriage with the word sandwich. It's probably descriptive enough, and is far enough outside the norm that people would actually have to think about what each other was saying rather than slapping their own interpretation on it. Using the word marriage means carrying very different assumptions into the conversation. When a Christian says marriage, they usually mean Holy Matrimony. Christianity is unique (to the best of my knowledge) among the major religions, as it views marriage as a sacramental union, through which God binds a man and a woman together in reflection of his relationship with humanity and not a civil process. When someone outside the church says marriage, they usually mean a legally formalized permanent romantic relationship between two people. Given that, it makes perfect sense that conservative Christians would be utterly confused when someone says that homosexuals can have a marriage and secularists would be baffled by anyone who says they can't. Sometimes I feel like if everyone could understand that, we could all stop ALL CAPSing at each other, but—
5. You know that's not the half that matters
It's really less about faith than it is about fear. I get that. I'm afraid too. Not the way some conservatives seem to be—that everything will turn into a slippery slope that's slippery because of all the sweaty, hedonistic sex people are having on it, and not in the way that liberals seem to be—that people will be ground beneath the pointy boot of conservative discrimination, but that people are going to come after me and the church I love. I'm afraid that I will be legally penalized for believing what I believe. More than that, though, it's about pain. Pain and deprecation. On one side, you have people who passionately love God and love the Bible and people are telling them that they're stupid and ignorant and bigoted—the God they love doesn't exist and the Bible they love is a fabrication. Of course they're going to come out with guns blazing. On the other side, you have people who believe their sexual identity is intrinsic to who they are and people are telling them that who they are is evil and they should be relegated to second-class citizenry. Very few people make the arguments in those extreme words, but those are the words that are heard. Most of the arguments on both sides have gone well beyond reason and into stupid, illogical, personal attack, and I'm not sure there's any coming back from that.
Anyone who's actually made it this far without jumping straight to the comment section might be wondering what my moderate position is. Here you go: To be honest, I think that the church has absolutely no business legally solemnizing any union, heterosexual or otherwise. Let us handle unions spiritually according to our own beliefs and let the government handle legal unions secularly. If someone wants both, they should do both. My moderate opinion is that same sex couples should absolutely be afforded the same rights under the law as opposite gender couples. Under God is a different story. Nothing the church says is going to change the one, and nothing the court says is going to change the other.
You're free to disagree.
As a pastor, I sometimes have trouble in "the ministry" because I don't look like a pastor. There's something in my demeanour that doesn't scream "pastoral". Despite being 32, people often place me at 24 and treat me younger. I blame my complete inability to grow decent facial hair. Also, my hair is kind of green right now, but that doesn't count because it was dyed for a youth retreat last weekend. I lack a certain gravitas and probably always will. Such is my lot in life. I get some cred as a youth pastor though, and have been told that I'd fit in well leading one of those young churches… maybe a university church. I might be able to play it off in a specialized role at a mega-church. Young people would like me.
As a youth pastor, I've been concerned with young people. I work with them, I love them, and to some extent, I love their culture. I spend time focusing on how to relate to them, how to relate God to them, and how to get them to relate to God. As someone who's still pretty young myself, I also have my own young person preferences and desires for worship. Sometimes that means I look at the way things are being done on Sunday morning and say "that's not cool," with the assumption that we need to make things cool, so that young people will come. Maybe that's the music. Maybe it's the volume. Maybe it's the appearance of the stage (sorry, "platform," I was recently crapped on by a church member for calling it a "stage." [Also, I just said "crapped on," which isn't very pastoral]). Maybe it's how the message is communicated. It's been drilled into me, and into most of the evangelical church world, that "young people are the future of the church," and if we don't get them, the church is going to die. So now, many churches are doing their best to make our sanctuaries look like this:
I like that. It's cool. It inspires me. I want to be on that stage. I want to be in that crowd. I can also pretty much guarantee that there is more green hair in that crowd than grey. This is what church looks like to this generation, and you'd better get on board, because this generation has to be reached for the Lord. We look at most of the "big" churches that show up in church media circles, and we see this as a functional model, because they're growing. Younger people are flooding through the front doors and experiencing God in new and fresh ways.
Unfortunately, it seems that older people are quietly finding the back door.
There are times when I love watching YouTube videos of Hillsong live recordings, or Elevation Worship, or a giant event that Chris Tomlin is leading. But once I get past how awesome it looks to have so many hands raised to the sky, and so many people moved to tears by God's grace and glory, it starts to bother me that the camera tends to linger on the same few middle aged people. Maybe it keeps returning to the one grandparent in the crowd. It pans over a thousand 20-somethings and rests on the exception to give the impression that this is for everyone – or at least everyone who can "get with what God is doing now."
I've heard people (to be honest, I've been people) who have almost rejoiced at older people leaving the church, because it gave more freedom to do something new. We've embraced the immortal words of Barney Stinson: "New is ALWAYS better." We feel the need to leave behind the old so that we can reach out to the new. It's more important for us to reach the new than minister to the old because… because. Because new is always better. Maybe because the old are "already saved" and getting people "saved" is the end all and be all of our purpose, so once they're "saved" we can forget about them and go save someone else. Why aren't we worried about "saving" anyone over 50? And is anyone other than me concerned that in 20 years, we'll be the ones shown the back door?
Yeah, I'm a young looking 32, but I'm ageing. The things that I like and the things that I liked when growing up aren't the things that capture the imagination of the newest breed. My pop-culture references are taking work to stay relevant. Quoting Friends is met with blank stares. Some of the kids I work with have never even heard of Friends! So observe, and tremble. We have our vision of what church should look like, and in the future we cool ones are going to be fighting just as hard for our archaic modes of worship as those we mock today. Culture is changing so fast that we can't even conceive of what that's going to look like.
In the mean-time, we're losing the idea that church is for everyone. We're losing the idea that the family of God and the Body of Christ includes people that don't like what we like. Maybe we've already lost it… hey, I've been on the other side of the equation (and reacted against it) at a church that refused to make any accommodation at all for the preferences of a new generation. It's like churches are being forced to make a decision about which generation they are going to minister to (or to be so bland and middle-of-the-road that people will just head off to one of their preference-specific congregations anyway), and so one church loses the vigour, passion, and energy of the young, and another misses out on the wisdom and experience of the old.
I've become more and more convinced that the root of this evil is the idea that Sunday morning is for saving people, and that the attraction of the church should be the attraction of worshipping God. We've come to expect Sunday morning to be the primary point of contact between people and God. We want a place that people will be drawn to with excitement. We want a place where people will want to be because what is offered there is what they want to see. We want it to say "see, God is for you."
And God is for you. But God's also for him. And her. And the crying infant in the back. And the toddler rolling out into the aisle to chase their Hot Wheels car. And the embarrassed mother reigning them in, who should't be embarrassed because God loves the fact that her kid is growing up in church surrounded by people that he is for. Like the 40-something woman in the other row that's having trouble worshipping because she secretly envies the embarrassed mother because she can have children. Or the guy in his 50s that is completely tone-deaf and can't keep rhythm to save his life. And his mother and father who taught him to love God with his whole mind and not his voice. And the elder with the walker that can't decide whether to turn up his hearing aid to hear the music or turn it off so he can't.
Sunday morning is about coming together as the family of God and the body of Christ, and joining together to worship and grow. And that's hard. It's so much harder than breaking off into little (or large) homogeneous groups worshipping in our own superior ways. And we panic, because coming together as the whole messy old and young body probably isn't overly attractive to the world.
Man, I've gone on for a while here… I'm going to wrap it up soon, I promise. I don't want to end it on this complaint, though, I want to talk about the solution. If you've read this far, you're probably wanting to hear it. By now you've forgotten that I've got weird hair, and my baby-face doesn't matter on the other side of a wall of text. TL;DR has no meaning for you. Well done.
So here's my solution: Forget about saving people. Churches should not be in the business of saving people. I'm not saying that people shouldn't be saved at church. I'm not saying that the Gospel shouldn't be preached. I'm saying that that's not the primary purpose of Sunday morning. The primary purpose of Sunday morning should be to equip us to be like Jesus. You know why people flocked to Jesus? Because he was like Jesus. You know who else can be like Jesus? Us. The Bible says so. Do you think a church with a congregation full of people like Jesus would do anything but grow? Who cares what the stage looks like. Who cares what the music is or what volume it's played at. People would come.
People would come because we would be living lives of love that reached out to the people around us rather than insulating ourselves from them. People would come because we're living holy lives – a holiness not focused merely on preserving ourselves from corruption but instead focused on setting ourselves apart for God – living as the people God made us to be, for the purpose he made us to have. People would come because they'd want what we have. People would come because they want to be like Jesus too.
We wouldn't have to worry about front doors or back doors on our churches, because doors wouldn't hold us.
I know… easier said than done. I know I'm not nearly as good at doing it as I am writing it.
What do you think?
Let's get something straight from the start of this post:  I am not a warlock.  I have neither tiger blood nor Adonis DNA.  I have, however, been awkwardly using the term "winning" for years, long before Charlie Sheen was winning Being An Insane Megalomaniac.
"School is hard this semester," a youth would say.
"Are you winning?" would be my response.
A blank stare would follow –the VERY SAME blank stare Mr. Sheen gets whenever he says something like "Aliens have requested my sperm to help regenerate their lost pantheon,"– and the youth would say something eloquent like: "wha?"
"Winning school…" I would say, and the conversation would degenerate from there.
Now, as I'm pretty sure I've said before, I like winning.  It validates me.  It probably shouldn't, because I know I should find my validation more in relationships, particularly my relationship with a Creator God who loves me and pursued me to the grave.  That's all good, but I still like winning.  There has to be a point system or objective to every game I play.   "Just for fun," isn't enough; I want to be able to win.
My friend Derek has a blog that he started recently: dereksoundguy.  Derek is the new Tech Director at Heritage Park Alliance Church in Windsor.  That's a Big Deal, because it's a Big Church, and Big Churches get Big Guys to do Big Things.  He's an amazing guitar player, a brilliant sound tech, and most importantly a great guy.  And he's pissing me off because he's winning blogging.
Derek's blog is still pretty small in terms of post numbers, but he's being consistent and posting almost every day.  I don't feel like I have either the time, or the worthwhile stuff to say to be blogging every day, but when I see his posts popping up in my inbox, I feel the pressure to post because he's beating me!  He doesn't know that we're competing and he's winning.  What's up with that?!?
So here I am hauling myself back from artificial competition again.  What is it inside me that feels the need to be measured against other people; to have some sort of empirical proof that I'm Good?  Why can't I be Good unless I'm winning?  Why can't I be Good unless I'm being better than the people around me?
We're made to be in relationship.  We're created to be in community.  That doesn't work if one person is trying to do everything, or making other people feel unnecessary or inadequate (all too often the flipside of winning).  Last night I hurt a friend of mine through what seems to be a perpetual need to one-up… She made a comment about an issue that was Big in her life, and my one-upmanship made her feel like I deemed that her concerns were invalid and that she was  petty for voicing them.
In trying to somehow prove I'm not Broken, I'm running the risk of breaking relationships.  This is why I'm striving to let go and embrace my Brokenness.   John the Baptist said of Jesus "he must become greater; I must become less [John 3:30]."  I've got to become less so that everyone around me can become greater.  In my relationships I can be so much greater than I am alone.  If I can let go and get out of God's way, he can do so much greater things through me.   Why do I get in the way of that?
I'm going to be so much better off when I figure out how to be winning Being Broken.